Address: 184-4, Seobu-dong, Andong city
Address in Korean: 안동시 서부동 184-4
Phone: 82-54-858-9002
Direction: It takes about 3 hours 40 minutes from Seoul By train.
Click here to know more detail.
Description

Normally we called Gusijang from Tteokbokki alley to Jjimdak alley. Due to the nature of confucian culture city , traditional ceremony food such as octopus, sharks, and sacrifices which is related confusion ceremony was popular in this market. Andong department store has been established in the mid-1960s, so at that time stores in the market formed rapidly, then in 2006 the government's traditional market activation' policy was transformed into the current figure.
Jungang Hansik: Andong Jjimdak Jongson
The blazing heat of the tiny kitchen overtook me as I lifted the scalding wok from the searing flames of the grill. The delicious, pungent aroma of ginger and garlic that filled the air was intoxicating. Trying my best not to seriously burn myself on one of the many dangers in the kitchen, I poured one of the most delicious meals I've ever had the pleasure of eating onto the plate, AndongJjimdak.
However, the origins of AndongJjimdak are not as glamorous as you'd expect; it has become an instant classic throughout Korea especially at its point of origin, Andong. There are rumors that the famous dish was invented during the Joseon period, but unlike most of the other traditional dishes we tried while in Andong, jjimdak, the owner of AndongJjimdakJongson will tell you, was invented in the early 1980s as an inexpensive (and delicious) dish to cater to students and blue-collar workers who were looking for an inexpensive but filling meal.
Overlooking the booths and beaten path of the bustling Andong Old Market, Andong Jjimdak Jongson is probably the most famous restaurant that can be found in the epicenter of AndongJjimdak.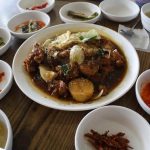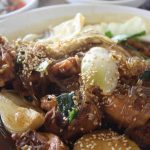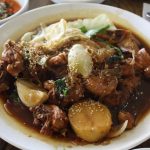 Every restaurant in the Andong Market houses their own exclusive recipe for Andong Jjimdak, but I don't feel the need to try any of them after the meal I had at Andong Jjimdak Jongson. We were instructed to eat the noodles first before the flavor seeped out. This was sound advice, for the flavor that the noodles retained was an intense rush that left my taste buds begging for mercy. Even for those who don't particularly enjoy garlic or onions, this is a perfect dish anyhow insofar that the flavors mesh so well with each other that one can't differentiate them, and one can only taste the luscious sauces and spice.
Gallery * Click images to enlarge