Gwangjang Market, previously Dongdaemun Market, is a traditional street market in Jongno-gu, Seoul, South Korea. The market is one of the oldest and largest traditional markets in South Korea, with more than 5000 shops and 20,000 employees in an area of 42,000 m2. Approximately 65,000 people visit the market each day.
Address : 88, Changgyeonggung-ro, Jongno-gu, Seoul
서울특별시 종로구 창경궁로 88 (예지동)
Type / Products:Shops/Malls/Traditional Korean clothing and accessories
Inquiries:82-2-2267-0291(Korean)
Introduction
Unlike many other traditional markets, Kwangjang Market has preserved its rich history and maintained the feel of a traditional market, shying away from modernization. Operated by kind-hearted merchants that embody the warmth of the Korean people, the market is a great place to eat delicious food and purchase various items at inexpensive prices.
Coming out of winter, people enjoy the fresh, full air of spring. They pack away their thick winter clothes and put on lighter, shorter clothes to walk around outside, to enjoy the sunshine and to revel in the spring breeze.
The seasonal change gives not only pleasure but also the task of physically adapting to those changes. Due to the wide range in daily temperatures, one can easily catch a spring cold or become allergic to pollen or other stimuli. Thankfully, most of these typical ills are preventable if one eats right, in a nutritious and balanced manner.

In the light of the new season, however, many people say they lose their appetite in the spring, even though they need to eat various foods to achieve a balanced nutrition. Traditional markets can be a great place to help stimulate their appetite. These markets help encourage people's appetite with various foods and ingredients.
Among the many markets of Seoul, one of the most well-known is Gwangjang Market, located in the heart of the traditional downtown. This market is also known as one of the must-see tourist attractions for out-of-towners when they visit Seoul for the first time. It is a food paradise.
The market was established on July 4, 1905, as the first permanent market in Korea that operated every day. Today, it attracts people with its variety of food as well as its history stretching over more than 100 years. In the roughly cross-shaped sprawling string of eateries running down the center of the market, visitors can eat all kinds of food, from all parts of the country.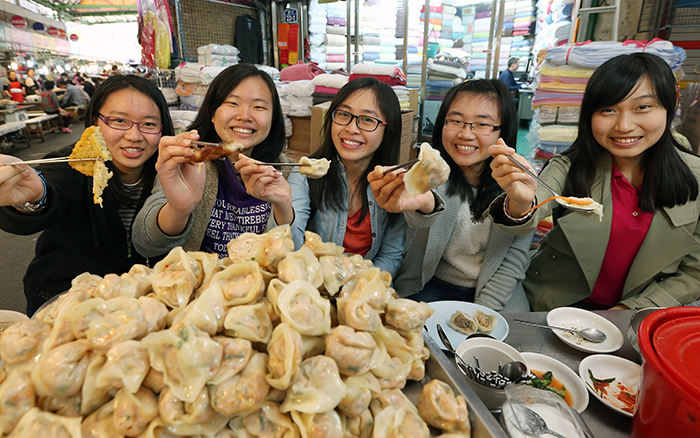 Market-goers can enjoy some popular food delicacies at the market. These iconic foods include bindaetteok,mayak gimbap, bibimbap, susubukkumi or sorghum red bean pancake, steamed dumplings and raw fish. Mayak gimbap, meaning "narcotic" gimbap, got its name due to its supposedly addictive taste. Once you start eating, you can never stop. Bindaetteok is one of the must-eat foods in the market. Bindaetteok is a style of deep fried pancake made of mung bean, meat and vegetables. Many street stalls make a version of bindaetteok common in the now-North Korean province of Hwanghae-do, putting a batter made with freshly ground mung bean and other ingredients into a large, square frying pan. If you feel like a bowl of bibimbap, sit down and an over-sized bowl of steamed rice, scooped from an iron pot with a variety of fresh greens, kimchi and soy bean soup, will be placed down in front of you. Famous street foods such as sundae, blood noodle sausage made with pork blood and intestine, and tteokbokki, sliced rice cake seasoned with a chilly sauce, also lure the market goers.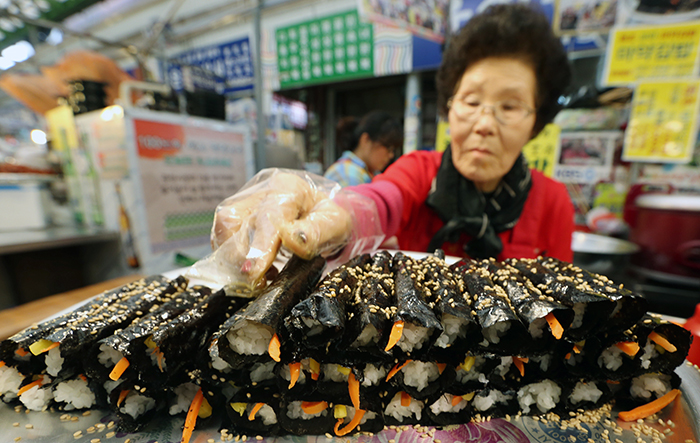 CNN Travel selected Gwangjang Market as part of its "dream itinerary around the land of the Morning Calm" when it wrote about Seoul in its article, "Seven dazzling days in South Korea," published on February 3, 2012. Director Tim Burton and actress Heather Graham visited the market and tried the food. The market won even more publicity among Chinese and Southeast Asian visitors after a hit TV entertainment program, SBS's "Running Man," featured the market in one of its episodes.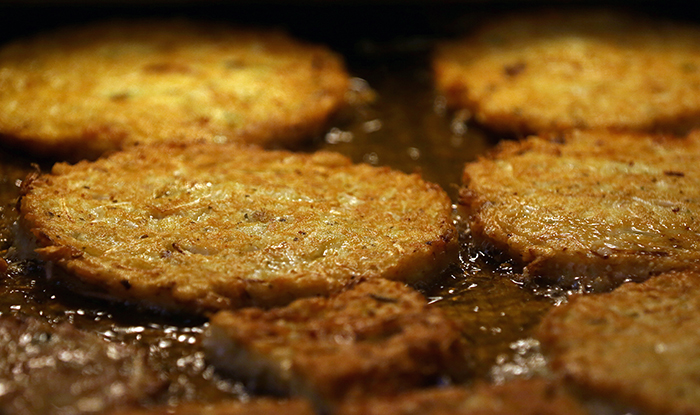 Seo Geum-yeon, a stall owner who has been selling bibimbap in the market for almost 20 years, said, "Recently, we have had more Mainland Chinese tourists. People continue to come here, even late at night." Seo even offered free pieces of nurungji, the crust of overcooked rice, to her guests so that they could enjoy the unique taste of cooked rice from her iron pot. Lee Yee Jin, visiting the market from Malaysia with her friends, said with a smile, "I like the market very much and the dumplings are delicio
Gallery   *Click images to enlarge