Address: 18, 15 gil, Jahamun-ro, Jongno-gu, Seoul
Phone: 02-722-0936
Operating Hour: 09:00~22:00
Closed on the third Sundays.
Lunchbox Buffet Cafe
Operating Hour of Lunchbox Buffet: 11:00~ 17:00 from Tue to Sun.
Closed on every Mondays and the third Sunday of the month.



How to use Lunchbox cafe
1. Go straight about 50 meters from entrance of Tongin market.then you will see Community center. Go up to the second floor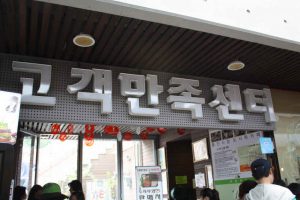 2. There is a cashier counter
3. Go up to the second floor
4 Where you pay 5,00 won to get a plastic tray and 10 traditional coins.
5. Shops has a signboard which means the shop is a member of lunchbox buffet cafe.
7. You can get anything you want at one or two coins at member stores which has a signboard.
8. Enjoy your meal!!!
9. Return the tray, the spoon and throw away food garbage.
Tips
many people enjoy the buffet with rice and soup,  at 1,000 won each, at community center, or small Kimpap at street markets.
View Larger Map
History
It was established based on publick market for Japanese residents in 1941. After 6.25 war, Tonging market became the current shape with small shops and street shopss since the population in West village, located east side of Gyoengbokgung palace, hasd been increasing. Since special act on revitalizingl Korea's traditional markets was passed in 2005, it has been registered to the authorized market and has got modern features. In 2010, it was selected to Seoul Cultural Market organized by Seoul city and Jongno-gu. In 2011, it was incorporated as Village enterprise and established online shopping with the call center and delivery center. There are about 70 shops; most shops are restaurants and daily-dish shops, and various shopts which sells fruits, fish, meat. clothes or shoes, and repairshops of clothes, bags and shoes.
Since January of 2012, the market runs Lunchbox cafe "street" and becomes popular.
Gallery *
Click images to enlarge